Table Mats
There are lots of free tutorials for table mats on the internet, here are a couple of our favourites….
This one has a border pulled over from the front rather than separate binding around the edges, plus that all important pocket for the chalk.
This version has 'proper' bound edges…
Reusable, Personalisable, Wrapping Paper!
Add Wipe Clean Labels To Fabric Baskets
You could sew these into place, or use heat n bond ultra to add adhesive to the back of the chalk cloth and iron them into place.
Chalk Cloth Embroidery Hoops
This is such a simple but clever idea!  Hang around the house and garden, adding your own personal messages, or use as signage at a craft fair.
Make a Fun Table Runner
As chalk cloth does not fray, you can simply cut to size and use straight away!
Reminder or Reward Chart
Chalk Cloth Sew and No-Sew Versions of Bunting
Whole punch in the top corners of the bunting triangles and thread piping cord or string through the holes!
Simply cut your triangles and then sew into our bunting tape – the fabric won't fray and has some weight to it, so no need to add a backing 🙂
Why not try a different shape for your flags?
Chalk Cloth Labels
Table Centre Piece For Weddings or Planter with Space for Your House Number!
Noughts and Crosses Playmat!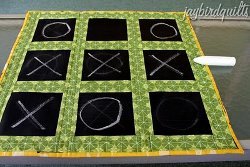 Large Play Mat
Why not put a car mat or dolls house layout on the other side?
Follow the link to this tutorial for lots of great tips for sewing with chalk cloth!
Lunch Bag
Applique Cushion Covers
Feeling inspired?  Click here to buy your chalk cloth today!